The City of Colwood

Colwood was incorporated in 1985, and has a population of approximately 15,000. Its best known landmark is Hatley Castle, a castle-like building originally built as a residence for James Dunsmuir, premier and later Lieutenant Governor of British Columbia.
For more information please visit www.colwood.ca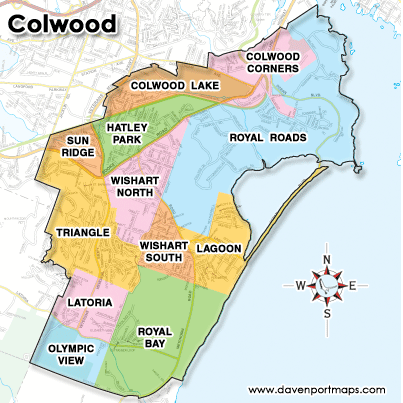 The City of Langford

Named after Captain Edward Langford, who established a Hudson's Bay Company farm in the area in 1851, Langford was incorporated as a district municipality in 1992. With a population of approximately 19,000 it is a young and growing community. It offers a large number of lakes and parks including: Thetis Lake, Langford Lake, Glen Lake and Florence Lake. The larger parks are Veterans Memorial Park, Centennial Park, City Centre Park, and Goldstream Park which also has a provincial campground. With a growing commercial industry, Langford is a perfect place to raise a family.A notable accomplishment following the city's embrace of rapid-fire growth is the development of the Bear Mountain golf resort.
For more information please visit www.cityoflangford.ca
The Town of View Royal

View Royal became incorporated in 1988. It has an approximate population of 8,000 and has a rich history that is closely linked to the entire region. Originally settled by Dr. John Helmcken in the 1850's several historic sites can be found in View Royal including the oldest continuously operating pub in the province of British Columbia, the Six Mile Pub founded in 1855. The Esquimalt First Nation have occupied View Royal for time immemorial.
For more information please visit www.viewroyal.ca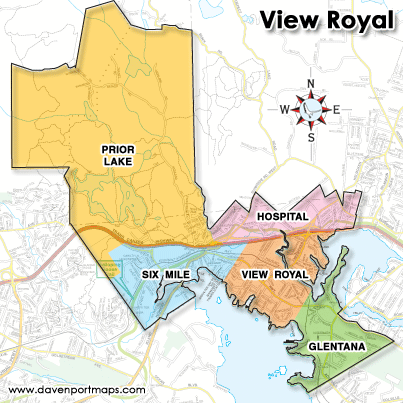 The District of Metchosin

Incorporated in 1984 it is a small coastal community. It has an approximate population of 5,000. Metchosin is mainly a rural community with large parcels of land. It is known for its many wilderness parks, such as Devonian, Witty's Lagoon, and Matheson Lake. Their well-maintained trails and scenic vistas are popular with tourists and locals.
For more information please visit www.district.metchosin.bc.ca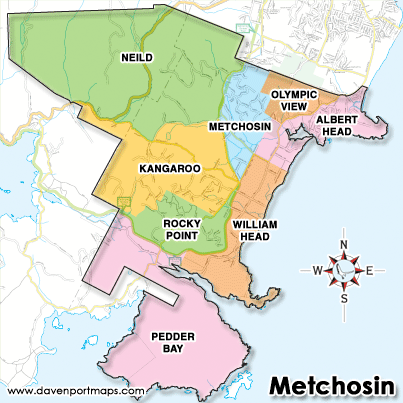 The District of Highlands
A hidden, natural gem of the Capital Region. The Highlands has an approximate population of 2,300. Approximately half of the Highlands is protected as municipal, regional, and provincial parkland. The Highlands people are proud of their rural, natural environment, and quiet lifestyle. It is home to many interesting plants and ecosystems such as wetlands, woodlands, wildflowers and mature forests. In Highlands, property taxes are among the lowest in the region, having only a 2% rise in the last thirteen years. The roads are scenic, narrow and winding.
For more information please visit www.highlands.bc.ca